RV Service at Folsom Lake RV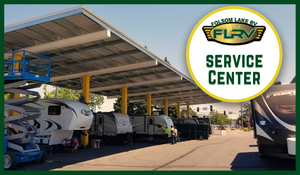 Folsom Lake RV has expanded service bays and employed experienced technicians to give you quality service the first time, every time.  Our RV Service department can install any RV Part or RV Accessory from our RV Parts and RV Accessories department.
If you would like to contact us regarding an appointment or repair, fill out the form below or give us a call at 833-793-0685.
Have questions? We've got answers. Call us at 833-793-0685.
---
Service Videos
Recommended Annual Maintenance
AXLES
Inspect, clean and adjust brake assemblies
Inspect bearings for evidence of overheating
Replace grease seals and cotter pins
Remove and replace all grease in hub cavity
Rotate tires
Check tire inflation and set proper torque
ROOF
Wash and UV-treat rubber surface.
Spot seal damaged seals with EPDM rubber sealant
LP SYSTEM
Pressure test for leaks in all pipes and hoses
Inspect exposed external hoses and pipes for damage
Check operation of auto change over regulator
12V SYSTEM
Charge and load test batteries measuring for normal operation
Check charge capacity of power converter
Top off battery cell water
Clean and seal corrosion from battery posts or terminals
APPLIANCES
Check operation of furnace, refrigerator, water heater, and air conditioner(s)
Clean burner chambers of debris and obstructions
FRESH WATER SYSTEM
Flush water system to remove old water and fresh water anti-freeze
Sanitize water tank and fresh water piping with non-toxic sanitizer to reduce bacteria