Compare Keystone Cougar to Reflection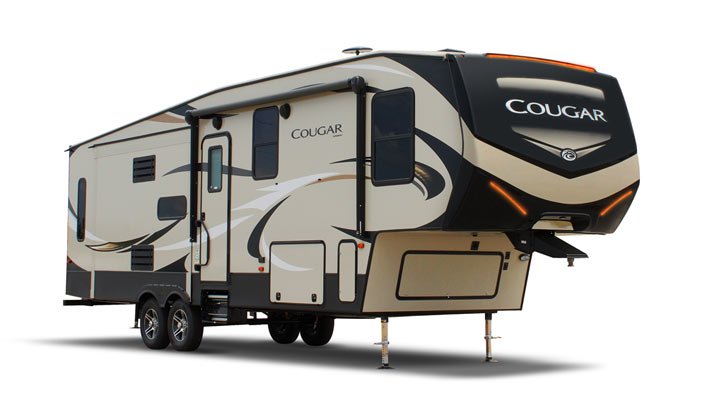 The 2019 Keystone Cougar and Cougar Half-Ton not only outperform other Fifth Wheels in their class, but their standard features outnumber other luxury Fifth Wheels, like the Grand Design Reflection.
Click below to see the side-by-side comparisons -- Cougar vs. Reflection, and Cougar Half Ton vs. Reflection 150 Series, and it will be clear why,

for 17 years running . . .
Cougar is the #1 Selling mid-profile Fifth Wheel!
Click below to compare . . .
TOP FEATURES
Reputation - 20 Years of Excellence - Over 150,000 BUILT/SOLD
STANDARD
NO
Value - #1 Selling Mid-Profile FW since 2001 (17 YEARS) - Highest Resale Value
ACHIEVED
NO
Recognition - RV Hall of Fame - Cougar is the only "New" RV on display at the RV Hall of Fame
ACHIEVED
NO
Warranty - Industry's Best - 3-Year, clearly defined, Transferrable Structural Warranty (3 yr. lamination)
STANDARD
NO - NON-TRANSFERRABLE
iN-Command - Slides, Awnings, Lights, Systems, Programmable HVAC, Wi-Fi, Bluetooth, additional switches + much much more
STANDARD
NO
Electrical Wiring - Color Coded - Labeled Circuits - Easily Identified
STANDARD
NO
TUF-LOCK A/C Couplers form a Permanent, Crush Resistant, Seal for your A/C systems
STANDARD
NO
Racetrack A/C duct work - utilizes both A/C's to quickly/efficiently cool your RV (15K + 13.5K = 28.5 BTUs)
STANDARD
YES
4-Stage Quality Control Process (Eng and Testing, 375 In-process Inspections, 120 Point Secondary PDI, Shipping Dept Review)
STANDARD
NO
Road Armor - Superior Suspension System - 6" of travel , 360 degree protection, 31.7% reduced vibration
STANDARD
NO - EQUA-FLEX
Fresh Water - Industry Best - 81 Gallons
STANDARD
60
Awards - More Dealer Satisfaction Index (DSI) Awards than any other brand
STANDARD
NO
Service - Over 1100 Service Centers located throughout North America - easy access to parts and service
STANDARD
NO - (APPROX. 195 LOC)
Storage - Folding Bike Rack - 225 LB Capacity - Versatile
STANDARD
N/A
Storage - industry Leading 78 Cubic Feet of Pass-Through Storage
STANDARD
NO
Windows - Massive Oversized Panoramic Windows Throughout - increased ventilation - more natural light
STANDARD
NO
Slide Heights - 74" Tall Slide-Outs in Living Room - All Models
STANDARD
YES
TV - 50" 4K TVs - All MODELS
STANDARD
NO
Bath Door - Industry First - Innovative Pivot Hinge Bathroom Door for easy access from the Hallway
STANDARD
NO
KING BED - Available - All Models
STANDARD
NO (3 MODELS ONLY)
Front Cap - Painted - 7 coats - Covered under 3-Year Structural Warranty
STANDARD
NO
CAPITAL GRILL - Stainless Steel (easy to clean) - useful for cooking with pans as well as for grilling
STANDARD
NO
TOP EXTERIOR FEATURES
MAX TURN Technology w/ Hitch Vision - Short Bed Turning Radius (83.33 radius std hitch or 95.66 radius slider hitch)
STANDARD
NO
Pin Box Seal - Foam Seal keeps Weather and Bugs out of your Fifth Wheel
STANDARD
NO
5/8 - One Piece - DYNA Span Flooring - 25 YEAR WARRANTY
STANDARD
YES
Rear Wall - Double Insulated - Laminated Rear Wall
STANDARD
NO
Pass-through storage with Slam-latch baggage doors w/ Magnet door catch
STANDARD
YES
Auto - Level - 4 point - Ground control 3.0
STANDARD
OPTIONAL
Slide-out Systems - all with Manual Override - peace of mind
STANDARD
NO
Rear Bumper - useful - will protect your trailer from damage while backing-up
STANDARD
NO
Solar and Back-up Camera Prep
STANDARD
YES
16" 8 LUG E RANGE TIRES with Road Side Assistance - ALL MODELS
STANDARD
YES
Suburban - 12,000 BTU Water Heater, Porcelain Tank w/ 3 yr. Warranty, Highest Recovery (22.2 Gallons per/hr.)
STANDARD
NO
Electric Awning with Manual Override + 5 year warranty on fabric
STANDARD
NO
TOP INTERIOR FEATURES
Slide-outs - Full Bedroom Slide-outs - All Models
STANDARD
NO
LED Lighting - Interior and Exterior
STANDARD
NO
Oven - 21" with recessed Glass Cover offers more counter space
STANDARD
NO
Refrigerator - 12 Cubic Foot - RV Fridge (110V and Propane)
STANDARD
OPTIONAL
Heat System - Residential "In-Floor" direct flow Heat Duct System - most efficient/effective heat system
STANDARD
NO
Countertops - Solid Surface Kitchen and Bathroom
STANDARD
YES
Washer/Dryer Prep - All Models
STANDARD
SOME MODELS
Bath Mid-Deck - Tallest - more room in the hallway and bathroom
STANDARD
NO
30 x 50 Residential Shower with Seat, and Glass Shower Door - (All Models except 367 FLS)
STANDARD
NO
48" Fireplace - All Models
STANDARD
NO
Bedroom TV (standard), can be located in the Pass-Through for exterior TV viewing
STANDARD
NO
Dimmer Switch for interior Lighting (above dinette and sofa)
STANDARD
NO
3-Speed Dometic Fantastic Fan with Rain Sensor - living room
STANDARD
NO
Window Treatment - solid Lambrequins with Wood Blinds instead of hard-to-clean curtains with Night Shades
STANDARD
NO
Kitchen Sink - 50/50 split Kitchen Sink - uses less water while camping
STANDARD
NO
FEATURES
Company - Service and Warranty - Investing in your Future
Service - Ongoing Education for Dealer Service Techs (Quarterly), Keystone Scholarship Program
STANDARD
NO
Parts - 98% of all parts have a photo, and are accessible online to ensure accuracy
STANDARD
NO
Parts - 86% of all parts ship within 48 hours
STANDARD
NO
Parts- over 100,000 parts in stock to quickly get to customers to get them back to Camping and Enjoying their RV
STANDARD
NO
TOP FEATURES
Reputation - 20 Years of Excellence - Over 150,000 BUILT/SOLD
STANDARD
NO
Value - #1 Selling Mid-Profile FW since 2001 (17 YEARS) - Highest Resale Value
ACHIEVED
NO
Recognition - RV Hall of Fame - Cougar is the only "New" RV on display at the RV Hall of Fame
ACHIEVED
NO
Warranty - Industry's Best - 3-Year, clearly defined, Transferrable Structural Warranty (3 yr. lamination)
STANDARD
NO - NON-TRANSFERRABLE
iN-Command - Slides, Awnings, Lights, Systems, Programmable HVAC, Wi-Fi, Bluetooth, additional switches + much much more
STANDARD
NO
Electrical Wiring - Color Coded - Labeled Circuits - Easily Identified
STANDARD
NO
TUF-LOCK A/C Couplers form a Permanent, Crush Resistant, Seal for your A/C systems
STANDARD
NO
Racetrack A/C duct work - utilizes both A/C's to quickly/efficiently cool your RV (15K + 13.5K = 28.5 BTUs)
STANDARD
YES
4-Stage Quality Control Process (Eng and Testing, 375 In-process Inspections, 120 Point Secondary PDI, Shipping Dept Review)
STANDARD
NO
Road Armor - Superior Suspension System - 6" of travel , 360 degree protection, 31.7% reduced vibration
STANDARD
NO - E-Z Flex
Fresh Water - Industry Best - 60 Gallons
STANDARD
52
Awards - More Dealer Satisfaction Index (DSI) Awards than any other brand
STANDARD
NO
Service - Over 1100 Service Centers located throughout North America - easy access to parts and service
STANDARD
NO - (APPROX. 195 LOC)
Storage - Folding Bike Rack - 225 LB Capacity - Versatile
STANDARD
N/A
Storage - industry Leading 52 Cubic Feet of Pass-Through Storage - Most Models
STANDARD
NO
Windows - Massive Oversized Panoramic Windows Throughout - increased ventilation - more natural light
STANDARD
NO
TV - 50" 4K TVs - Most MODELS
STANDARD
NO
Bath Door - Industry First - Innovative Pivot Hinge Bathroom Door for easy access from the Hallway
STANDARD
NO
Front Cap - Painted - 7 coats - Covered under 3-Year Structural Warranty
STANDARD
NO
CAPITAL GRILL - Stainless Steel (easy to clean) - useful for cooking with pans as well as for grilling
STANDARD
NO
TOP EXTERIOR FEATURES
MAX TURN Technology w/ Hitch Vision - Short Bed Turning Radius (83.33 radius std hitch or 95.66 radius slider hitch)
STANDARD
NO
50 Service - pre-wired for a 2nd A/C
STANDARD
NO - 30 ONLY
Pin Box Seal - Foam Seal keeps Weather and Bugs out of your Fifth Wheel
STANDARD
NO
Rear Wall - Double Insulated - Laminated Rear Wall
STANDARD
NO
Pass-through storage with Slam-latch baggage doors w/ Magnet door catch
STANDARD
NO - TWIST LOCK/THIN DOORS
Auto - Level - 4 point - Ground control 3.0
OPTIONAL
N/A - MANUAL ONLY
Electric Stabilizer Jacks
STANDARD
N/A - MANUAL ONLY
Slide-out Systems - all with Manual Override - peace of mind
STANDARD
NO
Rear Bumper - useful - will protect your trailer from damage while backing-up
STANDARD
YES
Solar and Back-up Camera Prep
STANDARD
YES
15" 6 LUG E RANGE TIRES with Road Side Assistance - ALL MODELS
STANDARD
YES
Suburban - 12,000 BTU Water Heater, Porcelain Tank w/ 3 yr. Warranty, Highest Recovery (22.2 Gallons per/hr.)
STANDARD
NO
Electric Awning with Manual Override + 5 year warranty on fabric
STANDARD
NO
TOP INTERIOR FEATURES
Slide-outs - Full Wardrobe Slide-outs - All Models - All Bedrooms
STANDARD
NO
LED Lighting - Interior and Exterior
STANDARD
NO
Oven - 21" with recessed Glass Cover offers more counter space
STANDARD
NO - 16"
Heat System - Residential "In-Floor" direct flow Heat Duct System - most efficient/effective heat system
STANDARD
NO
Countertops - Solid Surface Kitchen and Bathroom
STANDARD
YES
30 x 50 Residential Shower with Seat and Glass Door - (All Models except 32 BHS)
STANDARD
NO
USB Charging Station - Dual Charging Ports - located at Nightstand
STANDARD
NO
Dimmer Switch for interior Lighting (above dinette and sofa)
STANDARD
NO
Kitchen Sink - 50/50 split Kitchen Sink - uses less water while camping
STANDARD
NO
Bath Sink - Large - Two Hand Sink
STANDARD
NO - CEREAL BOWL SINK
Company - Service and Warranty - Investing in your Future
Service - Ongoing Education for Dealer Service Techs (Quarterly), Keystone Scholarship Program
STANDARD
NO
Parts - 98% of all parts have a photo, and are accessible online to ensure accuracy
STANDARD
NO
Parts - 86% of all parts ship within 48 hours
STANDARD
NO
Parts- over 100,000 parts in stock to quickly get to customers to get them back to Camping and Enjoying their RV
STANDARD
NO