Keystone Cougar Turns 20!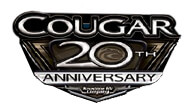 Join Our Celebration March 9, 10 & 11
It's an anniversary celebration at Folsom Lake RV when the Cougar brand by Keystone RV turns 20 years old. We've invited Don Wolf, brand representative for Cougar, to join us. You can talk directly with Don and pick his brain about his favorite subject, the Keystone Cougar. Whether you choose a Travel Trailer or Fifth Wheel, there's a Cougar brand for you.
Join Us March 9, 10 & 11
We'll have never-before-seen markdowns on new Cougar towables -- prices lower than you'll find at any RV Show, and lots of fun for the entire family.  Check out our current inventory of Keystone Travel Trailers and Fifth Wheels below, and get ready for even bigger savings coming during our Cougar 20th Anniversary Celebration March 9, 10 & 11.

Have Questions?  Contact Us or call 916-635-4545 now.